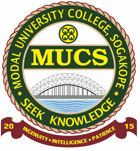 Modal University College
At Modal University College, we equip you for a future of endless possibilities.
Located at Sogakope, along the banks of the Lower Volta River overlooking the natural beauty of the Volta, sits Modal University College. We are a small, close-knit community, a comfortable cloister, with access to every amenity required for an optimal balance between academic and social development. Our students and lecturers often say that the best thing about Modal is that it's "just the right size".
We are the lifeblood of the community and students from all around Sogakope come to study, socialize, and drink coffee from our own Modal cafeteria.
We believe we provide you all you need to excel. A serene atmosphere for learning and a state of the art library. An environment for enjoying a variety of leisure activities such as volleyball, basketball, badminton, table tennis, pool, swimming, video games and numerous indoor games. A standard gym equipped with all modern equipment for fitness of your mind and body.
This is your place. Come and join the family!